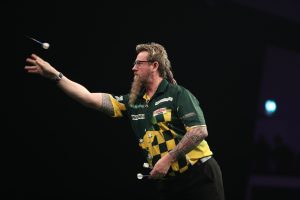 SIMON WHITLOCK takes on Michael Smith in a top-of-the-table showdown when the Unibet Premier League visits Berlin for the first time on Thursday evening.
Both players have won their first three matches on their respective returns to the tournament, which features ten of the world's elite players – despite being outsiders before a dart was thrown.
Whitlock, however, is not surprised by their flying starts to the 2018 campaign and believes the scene is set for a fabulous match in front of an expected 12,000 fans at the Mercedes-Benz Arena.
"It's going to be amazing this week and I can't wait," said Whitlock. "I'm over the moon with how things have gone so far and Michael's been great too.
"A year ago, me and Michael were talking to each other and we believed we should have been in the Premier League. That 12 months has done us the world of good, and now look at us – we're flying!
"I'm really proud of Michael because he's a class player and he deserves to be in the Premier League, and he's showing why. I'm feeling confident too, and I've got the desire inside to be one of the best.
"I think we've both taken a lot of pressure off ourselves and can go up their and enjoy the experience. We both want to keep up our perfect starts and that makes for a fantastic match."